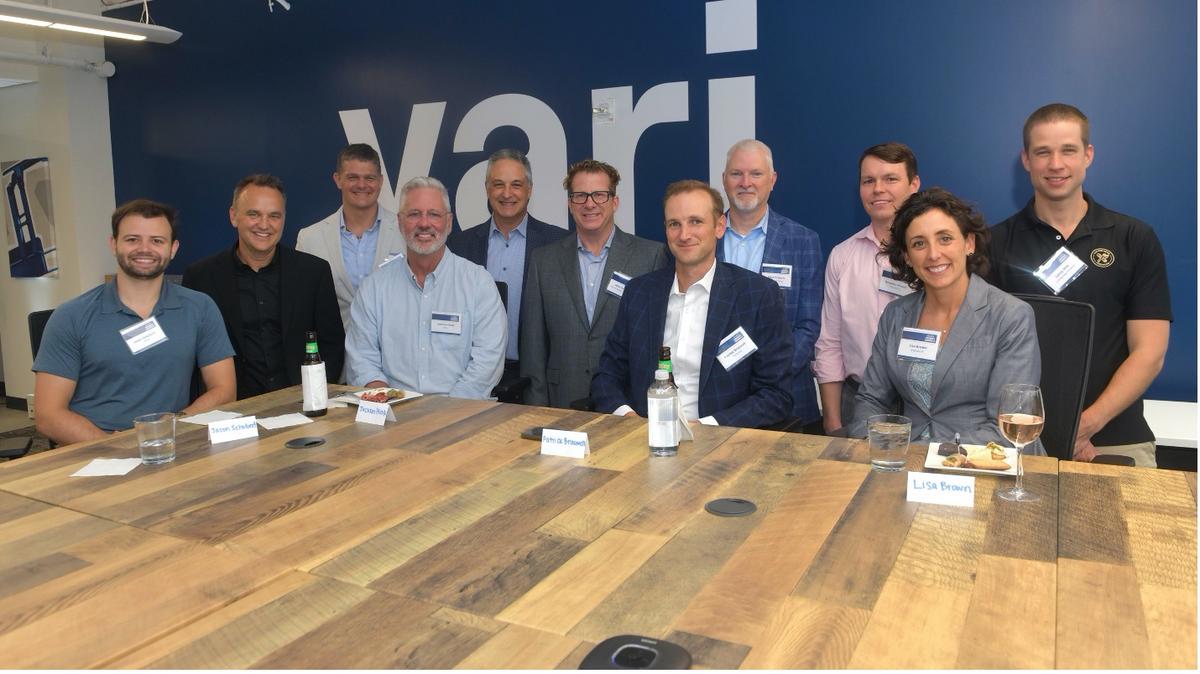 Space Planning and Capital Investing: An Executive Roundtable – Atlanta Business Chronicle
The office environment is changing. Some employees have returned to work, but others remain firmly entrenched in their home offices. Many companies are giving their employees choice, creating hybrid work environments that could become the new normal. Across all scenarios, organizations try to plan for future office space needs. "Space planning and capital investment" was the main topic of conversation at a recent editor's forum with SME leaders, moderated by Atlanta Business Chronicle president and editor David Rubinger.
Attendees included Patrick Braswell, Senior Managing Director, SquareFoot; Lisa Brown, partner, Brightworth; Clark Dean, executive general manager, Transwestern; John Falcone, CEO and Chairman of the Board of Falcone Capital Holdings; Leroy Hite, Founder and CEO of Cutting Edge Firewood; Jackson Houk, managing partner, three; Jason McCann, CEO and Co-Founder, Vari; Brandon Powell, CEO, HatchWorks; Brian Roberts, President and CEO, FBR Design Group; and Jason Schubert, President and CEO, inBrain.ai.
Here are the highlights of the discussion. Comments have been edited and condensed for clarity.
An immediate change
"Before the pandemic, offices tended to adopt open environments and flexible working arrangements, but the change has been very gradual. When Covid-19 hit, it immediately shook corporate mentalities. It was one of the biggest experiments in our industry, and we're finding it works, "says Brian Roberts, President and CEO of FBR Design Group, which specializes in designing flexible workspaces.
When employees at Texas-based furniture company Vari returned to the office in June 2020, offices were distributed and hand sanitizing stations were placed throughout the 80,000 square foot space. For staff who chose to stay at home, the company provided electric standing desks, chairs, and other workspace products. Vari has also transformed the working environment for clients.
"90% of our business went from equipment offices to working from home, and it became an e-commerce business when the pandemic started," said Jason McCann, CEO of Vari. "Today we are back to full office facilities for businesses."
Safety Precautions
Whether the employees are returning full-time or part-time, the safety rules in the office have been difficult to grasp. Vari had a mask mandate and today, with many employees vaccinated, masks are strongly encouraged. "We try to keep our employees safe and keep political debates out of the office," says McCann.
Commercial real estate brokerage firm SquareFoot – which has offices in Belfast, New York and Atlanta with additional Regus spaces in Nashville, LA and Houston – has a mandatory mask policy, with vaccinated employees exempt.
"[The HR person] is responsible for ensuring that people in the office are fully immunized if they have removed their masks. If they're not, they wear a mask, "says Patrick Braswell, Senior Managing Director of SquareFoot.
Brandon Powell, CEO of technology services company HatchWorks, has employees in three countries, including Costa Rica, Colombia and Peru. Outside of the United States, wearing a mask in the office and getting the Covid vaccine was a given.
"There is no doubt that you are getting vaccinated in Costa Rica. If they have it, you take it. There is nothing about this debate about politics. Same thing with Colombia, "says Powell.
Powell says empowering employees to make their own decisions about returning to in-person environments has worked best. If employees choose to return to the office, they must wear a mask. "Because they have the flexibility of where they work, they can make that decision themselves," says Powell.
Space redesign
Transportation and logistics company Falcone Capital Holdings LLC reopened its offices in April 2020. After polling its employees, the company redesigned the office layout and began offering hybrid work options.
"We have gone from an open office environment to building real offices for everyone," says John Falcone, CEO and Chairman of the Board of Falcone Capital Holdings. "We haven't had any cases."
Communications firm Boutique Three has invested $ 1 million to fit out its vibrant Buckhead office. According to managing partner Jackson Houk, although the company of about 30 employees is made up of young employees who generally seek personal interaction, about 30% of office space is not in use. "We have two floors and our lower floor is in the sublet market. We already had full-time staff working in Minneapolis, Charlotte, and the Florida Keys, so we were comfortable with the remote from day one, "Houk said.
Before Covid, wealth management firm Brightworth launched plans to expand its offices. Construction took place during the pandemic while employees were working from home. The office reopened on June 1, but less than 10% of the workforce is using the expanded space, especially as positive cases of Covid recently forced the office to close.
"We have this beautiful new space that no one has been in," says Lisa Brown, Partner at Brightworth. "If we had had this session about a week ago, I would have said our plans were to turn our office into a gathering place rather than [one in which] everyone has their desk or cube.
At inBrain.ai, the majority of the workforce is remote, which has saved President and CEO Jason Schubert from having to deal with health and safety issues in the office. inBrain.ai, which helps mobile app companies take advantage of survey monetization, has an office in Atlanta, but its engineering team is spread across 14 countries.
"We can hire the best talent around the world. Covid has accelerated this practice where people search for jobs remotely – not just in the United States, but around the world, "Schubert said.
For employees who don't want to work from home, inBrain.ai offers coworking space subscriptions. At the Atlanta office, the company has moved to a "hot-desk" environment where employees can choose any office they want.
Roberts of the FBR Design Group sees many companies incurring considerable expense to create collaborative and open spaces where employees can come and go as they please. Before making any drastic changes, he advises business leaders to wait and see what will happen in the coming months.
"I understand that companies want to make sure their employees feel comfortable returning to the office, but I caution my clients against any major changes to their space related to Covid," Roberts said. "The landscape of office spaces will continue to change as the pandemic evolves. What may make sense today may not make sense in a few months, so I suggest more temporary solutions, at least for now. "
Clark Dean, Executive Managing Director of commercial real estate company Transwestern, encourages clients to think more about their culture and function than their location when it comes to real estate.
"People are a little afraid to get together right now. It's kind of an unusual dilemma, because the point is that when people are together, they actually work faster, "says Dean. "If space shapes behavior, then what are the goals of behavior? What behaviors do we want to reinforce? And, therefore, what kind of space do we need to provide, in what kind of distribution, in order to drive the behaviors we want? "
Transwestern used this idea to help Randstad reposition its portfolio of approximately 300 offices in 30 regions across the country. Hired in January 2020, Transwestern was mining data to drive the repositioning when Covid hit.
"We got this interesting insight into how people behave as a team when they were in person, and then how those behaviors have changed on the other side of the pandemic. We have used this information to change the way they look at real estate, "says Dean. "We've halved Randstad's total square footage in Atlanta, but the space they have is dramatically different and it's designed to attract people from across the metro area because of the experience it offers. "
Creating a "resimercial" vibe in workspaces – a warm, comfortable environment that looks more like a living room than an office – is a trend that Vari is seeing. In its own office, the company has removable walls, which allows for a complete overhaul every six weeks.
"It's all about flexibility," says McCann. "Space will continue to change over time; we don't think of it as a 'fix it and forget it' or a sheet of rock forever. "
Powell also recently remodeled the HatchWork office space with removable walls. The company also added entertainment for children so parents can get them to work and keep them busy.
"We tried it out in San Jose, Costa Rica and then we did it in our build in the US and it was awesome," said Powell. "The other thing we did was tell our people that they could use the space for birthday parties, or whatever you want, because it's a flexible space. "